Not only did the Ole Miss Rebels lose in heartbreaking fashion to the Texas A&M Aggies on Saturday night in Oxford, but they had injury added to insult as they lost several key players. One of the biggest losses in that game has already been ruled out for the game vs. LSU as they will be without former top overall recruit, Robert Nkemdiche with a hamstring injury.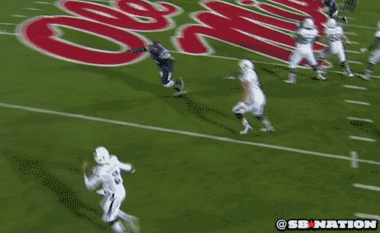 Gif Courtesy: SB Nation
CBS is reporting that the 6-5, 294-pound defensive end won't be back anytime soon to the dismay of many in Oxford and the surrounding areas as the much-ballyhooed recruit will be out at least the next three games.
Nkemdiche was among many on the defense to come up injured vs. the Aggies as they were so depleted they could not even run the type of defensive sets they wanted to at the end of the game.
Ole Miss' Hugh Freeze: "We're a beat up football team right now."

— David Brandt (@davidbrandtAP) October 14, 2013
That's the main problem for Ole Miss right now. In another year they will have more depth , but this team just doesn't have adequate depth to absorb these injuries like an LSU or Alabama could. In the interim Cameron Whigham, Channing Ward, C.J. Johnson (when healthy) and D.T. Shackelford will have to generate a pass rush.
With Nkemdiche and potentially Isaac Gross along the defensive line it should be music to the ears of the LSU offensive line who had their way with the vaunted Florida Gators defense and Jeremy Hill ran past the century mark again this season. Without their top two defensive linemen, the Rebels may be in for a long night trying to stop the 230-pound Hill.