LSU Tigers men's team turns in an unusual performance against Georgia
The LSU Tigers men's basketball team put on an uncharacteristic show to open the SEC Tournament. March Madness, indeed.
The LSU Tigers fan's standard reaction to last night's men's basketball win: "Where the heck has this been all year?" Such is a fair statement after watching Matt McMahon's team take the floor in Nashville for the SEC Tournament.
The Tigers were offensively persistent and defensively resilient during their 11 vs. 14 matchup against the Georgia Bulldogs. Most importantly, LSU largely controlled the paint while playing unusually aggressive basketball. As a result, the Bayou Bengals knocked off Georgia 72-67 and moved on to the next round.
Perhaps, McMahon's team is beginning to figure out how to play a complete game. But conversely, one can argue the LSU Tigers' key to winning on Wednesday was playing like a team with nothing to lose. Such make sense after an 18-loss season, including a 2-16 conference record.
As usual, KJ Williams was the LSU Tigers' best player on the floor. The senior forward posted 18 points, four assists, and eight rebounds. Williams' play was crucial in the game's later stages. His hook shot from the top of the key with under 30 seconds secured LSU's win.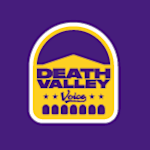 Want your voice heard? Join the Death Valley Voice team!
Write for us!
Senior Trae Hannibal also had a big game for the LSU Tigers. On the way to a 14-point and 11-rebound night, the guard turned in a gritty performance. However, Shawn Phillips emerged as the game's difference-maker. The true freshman, a 7-footer, came off the bench to post 13 points and ten rebounds.
Phillips hardly stepped onto the floor before Wednesday's win over Georgia. Going into Nashville, the Dayton, OH native averaged 0.7 points and 1.6 rebounds all season. One can't help but wonder if McMahon will continue expanding Phillips' role into the second round.
The LSU Tigers will return to the Bridgestone Area floor tonight to take on Vanderbilt. The Commodores are the SEC Tournament 6-seed. Fans might recall LSU defeated Vanderbilt 84-77 on February 22nd in Baton Rouge.